Janitorial Manager's Face Recognition feature verifies that the correct employee is clocking in or out at their scheduled location.

This feature is an add-on. To add Face Recognition to your account, contact JM Support at (567) 803-0096 or support@janitorialmanager.com.
To set up Face Recognition:
Save photos on your computer of your employee's faces that you plan to use Face Recognition. These will be uploaded to each employee and used as a reference to verify their identity when they clock in or out. You can have multiple examples of each employee's face.
Note: All photos must be saved as a .JPEG
In the Janitorial Manager web application, navigate to Settings (Gear) > Manage Account > Timekeeper.
Toggle on the Face Recognition setting. This makes the feature available for the account.
Navigate to Employees > Manage Employees, and click the edit pencil next to an employee that you would like use Face Recognition.
Click the Face Recognition tab at the top.
Click Select Files to choose a photo of the employee. Note: you can repeat this step to upload multiple photos for each employee.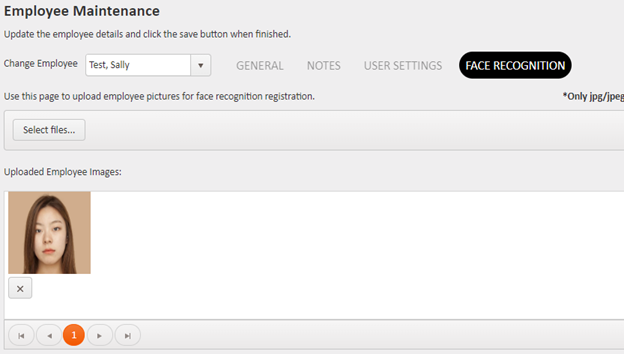 To use Face Recognition (Employee steps):
Using the JM Connect mobile app, click the Clock in/out icon, and proceed to clock in or out.
Your device's camera will open. Use the camera to take a selfie. You'll have options to either Use Photo or Retake. When Use Photo is selected, the app will proceed to clock in or out.
To validate Face Recognition (Manager steps):
In the Janitorial Manager web application, navigate to Reports > Time > Clock-in/Clock-out.
Choose the appropriate filters to find the employee and payroll period you're looking for.
Next to each time punch, you'll see in the Face Status column either "Face matched" or "Face didn't match." Faces that didn't match will be saved as pending punches until they are approved or declined. You can view the submitted picture for the time punch by clicking the "Face didn't match" button:
To approve or decline a pending time punch, click the checkboxes to the left of each punch and click "Approve" or "Decline." Note that pending time punches will not be recorded on payroll until they are approved.