Completing a Work Order
Click here to receive notifications for completed Work Orders.
Click here for Manager approval on Work Orders completed on JM Connect.
Work Order Actions
There are some key actions you can perform on your work orders. These are found under Work Management > Manage Work Orders. Look for the Actions column.
Edit - Make changes to the work order
Delete - Delete the work order
Print Work Order Summary - Generates a printable work order sheet with a detailed summary. No financial information is attached to this print.
Print Work Order Invoice - Generates a printable work order sheet with a description and an amount due cost. (This is only visible when the work order is in the Scheduled status)
Email - Brings up an email window you can use to send the work order to the client, as well as send it to chosen employees and users from your JM account.
Send to Client Button - Sends work order to Client via email
Employees/Users fields - Choose the employee(s) and/or User(s) to send the work order to and click the Send button
Work Order Statuses
Quoting, Scheduling, Performing, and Tracking Payment
To complete a work order, you must adjust the Status. You can make adjustments to the Status by going to Work Management > Manage Work Orders > Edit pencil > Click the Actions sub-tab
The statuses are New, Scheduled, Completed, Invoiced, InvoicePaid.
Click the edit pencil to complete the work order.
When you build a work order, it begins as a New status. While in New status, you can update your service fee, labor costs, supply costs, and any other details of the job to be performed.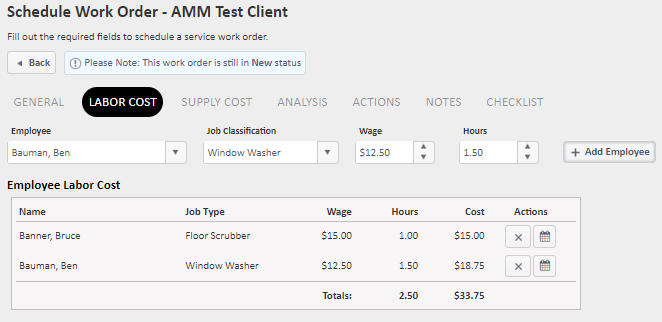 When the quoted work is agreed upon by any necessary parties, you can use the Actions tab to schedule the work order and mark it as Scheduled status.

During the Scheduled status, the Labor Cost, Supply Cost, and Checklist can still be edited to reflect the work that was performed.
When you mark the work order as completed in the Actions tab, the status changes to Completed and you can no longer make edits to the work order.
The status changes to Invoiced if it was listed as a Billable service with associated cost.

When you receive payment from the client and update the work order, use the Actions tab to mark the work order as InvoicePaid.

Use any of the Actions listed at the top of this article to complete all desired actions associated with this work order.
Click here for information on completing work orders on JM Connect.
Notifications for Completed Work Orders
Users can receive completion alerts for Billable Work Orders. This can help notify users of when to bill a customer for the work that was completed.
If you would like to receive notifications for Work Order Completions, navigate to Employees > Manage Employees. Click the edit pencil for your employee profile. Under the General tab, select the checkbox for Receive Work Order Completion Alert listed beneath the JM Timekeeper Ref. ID field.

*Note that users who complete Billable Work Orders on the web portal will not receive notifications for Work Orders they completed themselves.
Note for Managers - Approving Completed Work Orders
Once an employee marks a work order complete in JM Connect, you will need to approve it in the web portal.
Log into the JM website
Go to Work Management > Manage Work Orders
Find the Work Order to approve and click the edit pencil in the Action column
Select the Actions tab
If the work order is complete, confirm the performed date and click Complete Work Order