Completing Checklists in JM Connect
There are different ways to access different types of checklists in JM Connect.
1. Completing Checklist on Location
Clock into a location. If there are checklists associated with that location, they will be available to start below.
If you want to view a read-only version of a checklist, select "My Checklists" from the home page.
2. Completing Checklist on Work Order
Open a Work Order. If there is an associated checklist with that Work Order, they will be accessible here.
*Note: Checklists under a Work Order are read-only until the Work Order is in progress.
Steps to Complete the Checklist
Any tasks with a red star are mandatory. Mandatory tasks cannot be skipped, and the checklist cannot be fully completed until all mandatory tasks are marked completed.
Once on a checklist, swipe to the left on a task to update it. There are icons to:
View more information
Complete the task
Skip the task (on non-mandatory tasks)
Reset the status of the task back to "Open"
Click the blue "i" icon to view task descriptions/instructions. Click the Complete button when the task has been completed.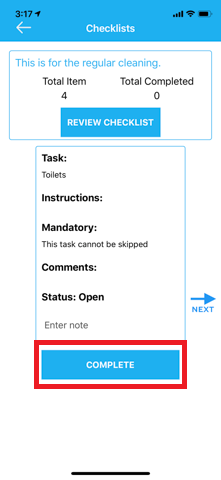 Click the Next arrow on the task to move on to the next task in the checklist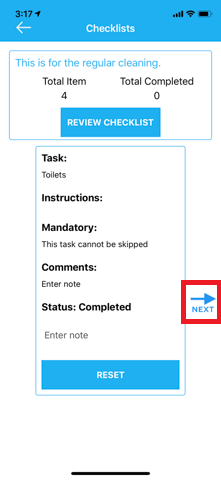 At any time, click on Review Checklist to see your progress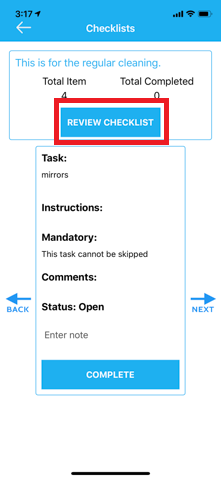 When all tasks are completed, the checklist will appear as below
On some checklists, you can also complete the entire checklist at once by clicking "Complete" at the bottom, or reset the entire checklist by clicking the "Reset" button.
*Note that you cannot click "Complete All" if tasks are specified as mandatory. Each step needs to be completed.