Cost vs Budget Explorer
Once you have set up your budgets per location, your inventory and supply tracking will compare against what you have budgeted for each location. The results will populate in the Cost vs Budget Explorer report.
Navigate to Inventory > Cost vs Budget Explorer
This report can be tracked by date range, and it will have two separate areas to view. The top graph is a visual representation of what you have budgeted, what your actual cost was, and how much profit or loss was associated with the numbers.
You can also use the checkbox above the graph to view paper items only.
Scroll over a section on the graph to get more information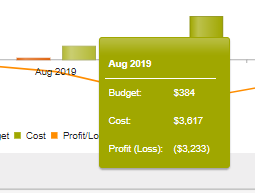 Below is a table view of specific information, including the month, location, rate, month to date supply budget, supply usage, percent use of rate, and profit or loss.

If supplies were used, there will be a magnifying glass icon to the right. Click on the magnifying glass to see more details.
You can also click on the More Details button on the upper right portion of the list to view a complete supply list used in supply requests and work orders during the specific time range.

This report can help you adjust your budgeting for locations and supplies and understand where some of your profits and losses are coming from within specific locations.
This report can be exported to excel.